Swipe to the left
Your Essential Immune Products
By Olenka Quintrell
2 years ago
13972 Views
The year 2020 has truly highlighted the importance of a strong immune system. With children and students back at school and university, the colder months fast approaching, and the impending second wave in many parts of the world, it is more important than ever that our immune system is well-supported.
"The right raw materials can double or triple the protective power of the immune system" Joel Fuhrman
Our immune system is highly nutrient-demanding. For the immune system to function optimally, it needs to be nourished on a daily basis with a wide range of nutrients, not least vitamin A, C, D, and zinc. It then needs to be further supported by a diverse and abundant gut microbiome which requires a good daily intake of prebiotic fibre and live bacteria. Read on to learn about our top supplements to support the immune system, as recommended by all of us on the Clinical Nutrition team.
Immune Intensive (vegetarian)
A potent mix of nutrients designed to support a healthy immune system, including vitamin C, vitamin D, zinc, and vitamin A, as well as magnesium, elderberry, sage, and beta 1,3 and 1,6 glucans. It is the most therapeutic immune product in our range. In addition to supporting the immune system, zinc and vitamin C help to protect cells from oxidative stress and magnesium helps to reduce tiredness and fatigue. One pot provides a 7 day supply. One to two pots (1-2 week course) is usually all that is required for an effective immune boost when needed. This powdered product facilitates flexible dosing and is ideal for those who prefer not to take tablets or capsules, or have swallowing issues. In fact, it is great blended into a smoothie - try this delicious recipe. It is also suitable for children at a reduced dosage. Please contact our Clinical Nutrition team if the child in question is taking any other supplements so we can check that this product is still suitable for them.

Children: ¼ tbsp from 1-3 years, ½ tbsp from 3-6 years, ¾ tbsp from 7 years
Vitamin C Powder (vegan, vegetarian)
A long-standing classic in the BioCare range which works well as part of your daily regime or at times of increased need! This product provides our highest daily dosage of vitamin C and is the most effective way of reaching a therapeutic daily dosage when needed. Per daily intake, it provides 1600mg (1.6g) vitamin C. We usually recommend for this dosage to be split over the day to support absorption. If a higher daily intake is required short-term, this daily dosage can be titrated up accordingly, as guided by a health professional. Being a powder, it mixes well into water, juice, or smoothie, so it's a great way of supplementing with high dose vitamin C without having to take a lot of capsules or tablets! Even better, this product provides vitamin C buffered with magnesium, which makes it less acidic and easier for the gut to tolerate. It is also an ideal vitamin C product for those who need to start 'low and slow' with supplementation as the powdered nature of this product allows flexible dosing. This product is suitable during pregnancy and breastfeeding, and for children too.
Pregnancy and breastfeeding: 1/3 tsp only per day
Children: a pinch from 3 years, 1/4 tsp from 9 years
We have two size options: 60g and 120g. The larger option would be great for all the family to share! It works well alongside other supplements, such as one of our multinutrients.
Nutrisorb® Zinc (vegan, vegetarian)
Provides a well-absorbed form of zinc (zinc gluconate) in liquid form at a good daily dosage of 7.5mg per 10 drops. This product replaces our Nutrisorb® Liquid Zinc Plus Ascorbate. Being a liquid, it is particularly suited to those with swallowing, digestive, or absorption difficulties. These drops can be added into water, juice, or smoothie. In addition to supporting immunity and oxidative stress, zinc also supports fertility and cognition, so it provides great all-round support. This product is suitable during pregnancy and breastfeeding at the normal recommended dose, however if taking a multinutrient, please check with our Clinical Nutrition team that extra zinc will still be fine to take. It can also be given to children at a reduced daily dosage:

Children: 5 drops from 1 month, 10 drops from 1 year
In most cases, this product can be combined with one of our multinutrients and/or vitamin C products for comprehensive support.
Nutrisorb® BioMulsion® D (vegetarian)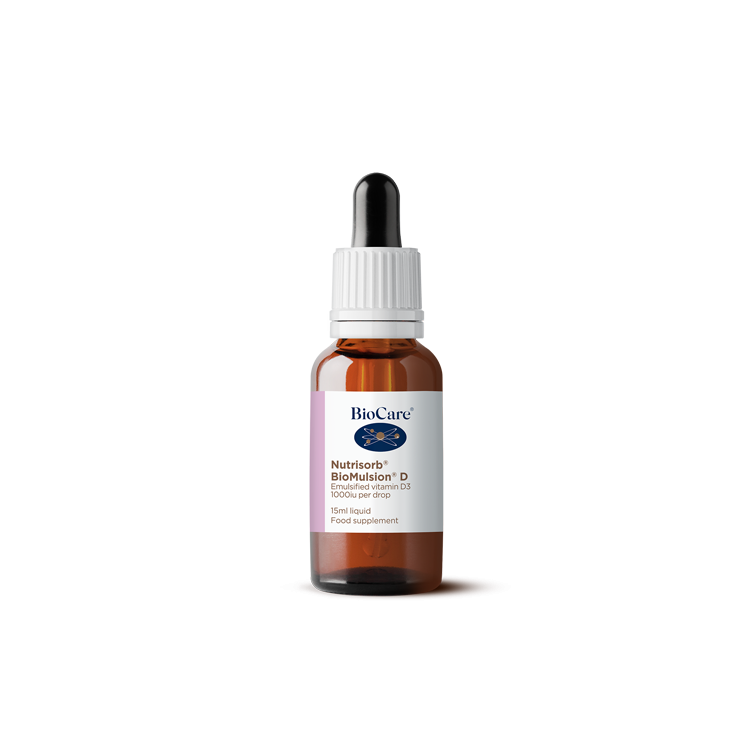 This is our best-selling vitamin D product which provides a high daily dose of easily absorbed vitamin D3 in a liquid form which tastes great and is easy to take. Vitamin D is required for the healthy functioning of the immune system, as well as bones and teeth. One drop provides 1000 IU vitamin D3. Even better, the vitamin D is emulsified, making it highly bioavailable and particularly beneficial with those struggling with digestive or absorption difficulties (e.g. related to gallbladder dysfunction or removal). The drops are flavoured with a natural lemon oil and are pleasant to take under the tongue or added to water, juice, or smoothie. If you have been recommended to take a specific daily vitamin D dosage by your doctor or complimentary health practitioner, you can easily increase the dose accordingly to reach a total daily intake suited to your needs. The bottle lasts for up to 6 months from opening when taken at the recommended dose per day, so it is very economical and can be shared with the whole family. Please note that the 1 drop per day is suitable during pregnancy and breastfeeding.

LIVE BACTERIA FOR MORE COMPREHENSIVE SUPPORT
BioAcidophilus Forte (vegan, vegetarian)

Provides a 30 billion daily dosage of the extensively clinically researched LAB4 blend of human strain live bacteria (Lactobacillus acidophilus, Bifidobacterium bifidum, and Bifidobacterium lactis). This is delivered alongside a conservative dose of fructooligosaccharides (FOS) from chicory for extra support. The live bacteria strains utilised are bile and acid tolerant with a proven history of safe and effective use in humans. This product is also dairy-free. As such, it is one of our go-to products, especially during or after a course of antibiotics. If taken during a course of antibiotics, this product needs to be spaced up to 4 hours away from this medication. This product is suitable during pregnancy and breastfeeding.
SPECIALISED CHILDREN'S RANGE
Children's Elderberry Complex (vegan, vegetarian)
This is a perfect immune booster for all children over the age of 3 years, even the fussy ones as it tastes great! It provides vitamin C and zinc at good daily dosages to support the immune system, alongside elderberry which is a rich source of protective anthocyanins and has a strong history of traditional use. This product works well by itself or in combination with one of our children's multinutrients and live bacteria products. It tastes great as it is, consumed off a spoon, however we encourage you to experiment with it and add it to a juice/smoothie, dairy-free yoghurt, or even as a topping for delicious homemade pancakes. It is designed to be taken as and when needed, rather than every day, so it is a great product to have in the cupboard at the ready!
Children's Red Berry BioMelts™ (vegetarian)
An all-in-one solution of live bacteria (3 billion) with vitamin D (300 IU) for every day immune support in one hit. It provides clinically researched Lactobacillus rhamnosus GG and Bifidobacterium lactis. It is a great-tasting, melt-on-the-tongue powder which children love to take every day, for example when added to their lunchbox! The powder tastes so good that even fussy eaters will look forward to having it every morning! It is naturally sweetened with xylitol and is dairy-free.
---


Got a question?
The brand you can talk to:
We have a team of Nutritionists at the end of our advice line, open to you, for product support and advice (5 days a week). 0121 433 8702 or clinicalnutrition@biocare.co.uk.
Not registered for an account with BioCare®?
You can register now to receive up to date news, product information and exclusive offers whether you are a consumer, practitioner or retailer.